Honestly, I thought I was a messy crafter! We have only been home a short while.
Still, when you see a face like this:
you can't complain can you?
I'm not sure what the dog thinks about it all though…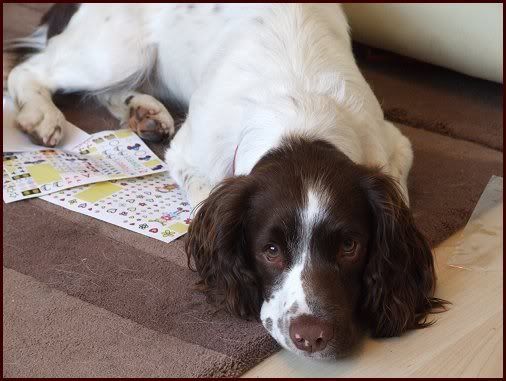 But as the photo shows, she is making just as much mess shedding her hairs (and yes, I did hoover them up this morning, she is going through a heavy moult).
We did indeed go to Torquay this morning as planned. We had a walk around the Marina and along the sea front. Callum loved seeing the boats, he wasn't bothered about the weather.
Then we went shopping in the town. I bought the girls a dress each, stocked up on school supplies at the new Wilkinsons store, bought an art/craft set for Callum and Tiegan, glue and white card for Chelsea, a new toy and a bone for the dog, and a new toy and treats for the birds. We went in The Works and picked up a drawing book for Chelsea, and a Thomas Activity book for Callum. Then finally onto WHSmith for some workbooks. We got wet, spent too much money, and stuck in traffic on the way home, BUT we had fun jumping in puddles and chattering together, so it was well worth it.